By Clayton Udoh
#EtukadSexScandal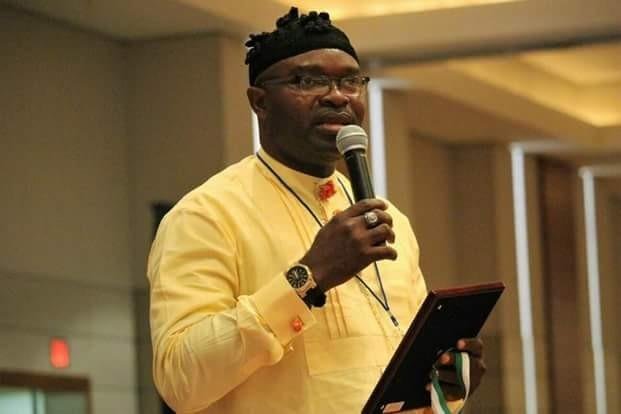 An animal is an animal; The highest ranking officer of
AKISAN needs deliverance. It did not start today, in Nigeria
2005 before he came to the USA, he was shot in Lagos with
assassins sent to kill him, over sleeping with a person's
wife. He spread lies that it was armed robbers. Strange
enough he was the only person shot and the men did not kill
a single person or take any money away.From Eket my very close friend in
2004 calls me in tears. He comes with this incredible tale
of the highest ranking member of  AKISAN destroying his
marriage; his name was Leo and his wife Imabong had a five-year-old son .
Soccer practice every
Saturday in Phoenix was supposed to be just that when it
was actually a front for Ndifreke Inyang to be waiting for
him in a hotel room to have sex with him and this ended her
marriage.A meeting after this led
to a fight between Ndifreke Inyang and Imabong Fuller in
full view of guest and they tore themselves to
pieces.


2009 he beats
the wife while pregnant with the third pregnancy, violently
because she begged him to remove the earphones he had on
talking to Ifoema the nurse who ran away to Saudi Arabia.
The beating triggers her to deliver prematurely. At the
hospital the doctor questions why the sudden change in her
condition when their bi-weekly examination of her was
favorable . The doctor is astonished that she is bleeding
suddenly. The highest ranking official of AKISAN desperately
whispers in Ibibio to her that if she reveals what happened
he will kill her and in attendance was the faithful sidekick
of the vampire!
This same highest
the ranking officer goes and beat his wife to a pulp who has
four kids for him in front of his Mother-In-Law, claiming
that it doesn't matter because the mother is a visitor.
I am talking about while she was nursing the fourth
child eats the wife until her ACL was
torn on another occasion by lifting her by her head off the
ground and slamming her to the ground.Since 2014, he
uses a fake facebook account to taunt the ex-wife on behalf
of Imabong Fuller, you can imagine a woman receiving taunts
while in the hospital with her inflamed ACL being drained
of fluid. Also, a counter story was created that she is
pretending and that there is no pain or injury. The woman and
the highest ranking member of AKISAN have taunted the wife
for four years constantly.
I am talking
about childish taunts that involve the highest ranking
member of AKISAN telling the women who had four children for
him that he has "won" that nobody will believe her
and that she needs to take her meds! I am talking about
childish taunts in which he tells her that,"you have
fallen with your four children while I have gotten my
Ph.D.". Taunts that the fifth child that was stillborn
was her own business (implying that she slept around).
Meanwhile, he was the one by state law to sign and receive
the dead child as his own and signed for the baby to be
released to the mortuary. Then in same fashion declares the
child was not his and the child could not survive
considering that earlier he stomped on the ex-wife's
head on a tile floor!The highest ranking
member of AKISAN takes his kids to the house of Imabong
Fuller (Lovelyn) and he has sex with her to the point that
his children are starving downstairs waiting. Finally, the
six-year-old comes upstairs and in an attempt to beg for
water walks into his father having sex with Imabong
Fuller. Like I said the highest
ranking member of AKISAN is fired for sleeping so much with
women that he cannot report for work. The Prison service of
Arizona finds him as a high risk because no one knows if he
has been confronted by ex-prisoners. So they had to let him
go. Since 2013 the highest ranking
member of AKISAN has paid Child support for the four kids
only three times. The woman goes around suffering like
hell. When asked for money, he replies,"Do you know my
bills, do you pay my own bills?
"The highest ranking member of AKISAN
goes and cashes his pension plan with the prison after being
fired to the amount of $ 24000. His wife with four kids are
living with the lights cut off and water off. He refuses to
give her anything out of the money. Within this time she
drives and gets stranded on the road with a broken car and
he refuses to help. Then he rather
spreads a rumor that why should she give him stress
?Afterall one Edwina Udoh has paid his ex-wife mortgage for
6 months!Still convinces Imabong
Fuller to fake her Father's death and get $100000 from
her Caucasian husband!The highest ranking member of AKISAN
lies like Trump and even made another counter lie that he
takes money from Imabong Fuller to give to the
wife. He goes and starts another affair
with Miss Uduak Akpan.One sister of Miss Felicia
Akpan………. The wife in exhaustion takes all his
property and stuff and drops it at the woman's
place.  He creates a counter lie
that the wife threw away everything at him in
Walmart. He messes up the
marriage of Lizzy Omon and she has to be flown out of
Arizona after sleeping with him.
Dianah
the cousin of Marshall Umoren called me last night and told
me that she did not sleep with the highest ranking
member of AKISAN. That he tried but she told him that she is
married after heavy harassment in which she was almost raped
. She now told me another tale that
made me weak, Ndifreke Inyang was involved with her and
other women in a money cooperative (Osusu). Ndifreke could
not pay up her part of the Osusu when her time came to pay
for the month to Dianah because she spends it for hotel
rooms with the highest ranking member of AKISAN
.. So she rather reported the whole
Osusu group to the highest ranking member who gave her the
idea of a fake facebook account to taunt Dianah posing as
Dinah's in-laws. Causing Dianah great stress in her
marriage because she refused to allow him to touch
her.
However, there is
JEHOVAH AND THE LORD HE IS GOD.
The highest ranking member of AKISAN
goes to court to argue his way out of paying this women
anything for her survival, his faithful sidekick and one
other man, I do not care to mention. All against a woman
that has experienced hell on earth. Meanwhile, the backdrop of
this situation is she has been declared mentally unstable as
normal. The
highest ranking AKISAN official and his sidekick and the
other man as birds of the same feather get defeated in court
.The sidekick in trying to give his testimony on behalf of
the vampire gets kicked off the witness stand
..After paying Child support only
three times since 2013 he is a hero in front of divorced
women who have kids also. I guess those divorced women who
have kids think that's okay as long as the sex is
scintillating. The divorcee women see him as a role model
of success as a smooth talker ..Three Ibibio men going against one
Ibibio woman in court after not paying her a dime since
2014. Then the same Ibibio men as
"experts" in how to treat a woman goes to court
supporting other women in punishing Ibibio men .. Then
declaring the men as mentally unstable, they will smooth
talk someone's wife into believing that they are role
models and the husband is an idiot, not knowing the Highest
ranking official of AKISAN is a MONSTER. If you want to know how hell is like
you do not need to go far.
Idara the ex-wife begins having
mysterious headaches that she cannot explain and before she
can even complain about this condition to anybody she
received taunts from the fake email accounts controlled by
the highest ranking member of AKISAN telling her that the
a headache is just the beginning.A man steeped in voodoo
with Imabong Fuller!
I am screaming that let
a Wombat not be regarded as a housecat
!!!!!!May the kettle not call the pot
black !!!!!
Massive fighting in the
Choir of Church of Pentecost (Ghanian Church ) over the
Highest ranking member of AKISAN. He leaves that church and
moves to Redeemed Christian Church of God, Phoenix Arizona
and causes such rancor he has to leave and move to another
little "Bethel" church with no name
.
If anybody doubts the veracity of my
information let the person talk to the elders of AKISAN in
Arizona. Let people contact the family of Idara the ex-wife
of the highest ranking official in New York. If what I am
saying is a lie let the highest ranking member of AKISAN
come forward.
The Highest ranking
member I am talking about is the National President of
AKISAN.The sidekick is
"Pastor" Dr. Marshall Umoren. If I was a Pastor I would tell my
friend that his actions cannot be "protected"
anymore. He needs deliverance and serious help
.
People wonder why I made a video
about West African women lacking cultural identity? How can
this kind of character be a celebrated as a way of life
among Ibibio women ????
People call me saying that I should
dissociate AKISAN Phoenix from the lot. I WILL NOT THIS AND
MANY MORE HAPPENED RIGHT UNDER THEIR NOSES, AND THEY LOOKED
THE OTHER WAY.ESPECIALLY THE BIG ELDER WOMEN.MY QUESTION
IS THAT IF YOUR DAUGHTER WAS TREATED THIS WAY WOULD YOU BE
HAPPY ????
I rest my case !!!
Clayton Udoh, Mesa, AZ